Updated 4-7-2020
Are you looking for real-time analysis of Salesforce data to improve the performance of sales reps/teams, uncover and prioritize at-risk accounts, and communicate strategic opportunities and successes within the organization?
We have the solution - Data Analysis Helper. And it recently has been updated with a new analytic pack, Account Performance Intelligence, that focuses on insights for your Account activities. Download it at Salesforce's AppExchange.
Data Analysis Helper provides actionable, real-time analytics that are pre-packaged, easily customized, and will not break your budget. Browse a collection of ready-to-use sales and service solutions available as paid add-on analytic packs designed to provide insights and notifications. These packs enable your team to track historic performance, spot trends, and identify opportunities for improvement without any involvement from your Salesforce admins or IT teams.
Since each company is unique, your organization can customize what they want to analyze, how to analyze it, and at what granularity by declaratively customizing the pre-built solutions. Each package includes ready-made dashboards providing at a glance updates for all of your teams and executives allowing for strategic decision making.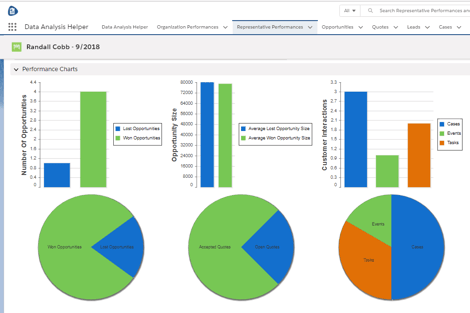 Sales Performance Intelligence: Tracks the performance for all sales reps during the current period and measures how their individual performance has improved/declined over a per
iod of time. Evaluate the sales performance of the organization as a whole to detect trends and improvement opportunities.
Neglected Client Information

Average Close Time Of Sales
Sales Win Percentage
Total Amount For Won/Lost Sales
Time Spent Selling
Lead Conversion Information
Accepted/Denied Quote Percentage
Performance Comparisons
Territory & Segmentation Intelligence: Offers historical and current sales analytics for territories and segments such as industry, account type, and more. Tracking these sales metrics helps uncover strategic opportunities and address issues early.
Total Amount - Won/Lost Sales

Sales Win Percentage
Time Spent Selling
Product Information
Performance Comparisons
Territory and Segment Leaderboard
Activity & Case Information
Account Performance Intelligence: Provides insights to track account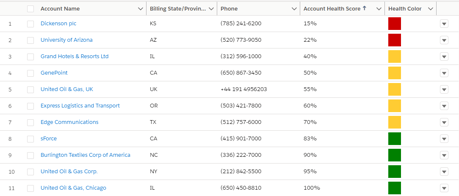 performance and configure goals to measure account health. Easily identify at-risk accounts so action may be taken before business is lost.
Individual Account Info, Activity & Metrics

Custom Goal Setting

Tracking by Revenue & Quantity

Account Health Scoring

Identifying At-Risk Accounts

Account Performance Scorecards & Comparisons