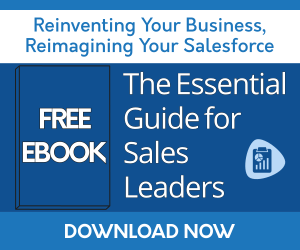 Businesses are constantly searching for ways to do more with less, to better leverage their people, processes, and tools. In addition, the increase in remote work arrangements adds to the complexity. Making various improvements in productivity add up to an increase in overall performance.
Today's sales and services teams aren't immune from these pressures, often relying on customer relationship management (CRM) systems such as Salesforce to help make those gains.
Sales managers and directors are under mandates from executive leadership to improve performance by sales teams and reps.
Likewise, sales and service reps want to meet those high standards, by

delivering new customers and serving

existing

ones,

and in turn, meeting or exceeding expectations.

Since existing customers already know the

business,

it makes sense to focus some efforts on retaining and extending the current customer base--it is a more efficient and less expensive source of revenue growth.
Meanwhile, support from IT teams and Salesforce admins is stretched thin by competing priorities across the enterprise.

How to Improve Sales Performance and Productivity
Solid sales data analysis is the key to making productivity gains in this difficult environment. The insights and answers for improving sales performance are buried inside your Salesforce data. You just need to uncover them, alert others about the opportunities, track and follow up on progress (or lack thereof), communicate results, and then begin this cycle again as new insights or trends emerge. Continuous improvement, when done well, is ongoing and never-ending.
Certainly, boosting productivity is a big challenge. Here are five ways you can intelligently manage sales performance for your business:
1. Leverage Quick-Reference Leaderboards
As the old saying goes: "You can't improve what you don't measure." So you need to set goals and keep score, and leaderboards are a popular feature of sales dashboards. Create current leaderboards and historical leaderboards for various levels: individual reps, enterprise-wide, territories, industries (or other segments of your customer base), and for individual accounts and customers.
This kind of trend-spotting allows you to build on strengths; address weaknesses; and recognize areas for coaching, re-investing resources, and addressing at-risk accounts. Decision-making and prioritization are enhanced. Ultimately, leaderboards are a great tool for communicating information throughout the organization.
2. Create Performance Comparisons
Team and individual leaderboards are good for displaying raw numbers like total sales in dollars or number of deals, as well as the activity in various segments or territories. But to truly understand what those numbers mean, you need to dive deeper into performance metrics and account health status. Processing this analysis from your Salesforce data and presenting it in a shareable, actionable format can be difficult without the right app or tool. Ideally, it is done without help from admins or IT teams, so you don't drain these scarce resources.
Understanding key performance indicators (KPIs) can lead to valuable insights at the granular level, within your customer segments, industries, territories, and at-risk accounts. Then, creating comparisons and account health scores gives you a standard for prioritizing your goals and to-do list for maximum impact to revenue and ROI. Moreover, you want your people to succeed (and they do too--their quotas and commissions depend on it). Performance comparisons also drive intangible factors like morale and motivation through healthy competition. It also uncovers opportunities for training and personal improvement.
3. Focus on the Right KPIs
There are many ways you can keep score, but some metrics are definitely more useful than others. Sometimes it's useful to compare your business's KPIs to other businesses or industry standards. However, since every business is different, it's smart to begin by comparing metrics against your own results. In many cases, the trend is more important than the specific number. And you want to be alerted to any changes as soon as possible, so you can act early.
Here are some important measurements you should track:
4. Organize Important Prospect/Customer Information
The overall goal is lead conversion by closing the sale. Still, every lead is different, and you want to deliver the best experience to them, to maximize chances for success for all involved. Every function in your business needs quick and organized access to activity and case information to efficiently deliver on the promise of a great experience. Leverage the right tools, processes, and alerts so information is accessed in a timely manner.
As a lead moves through the buyer's cycle and becomes a customer, you want to keep delivering on that great experience. You don't want neglected clients. You don't want to miss the signs of an at-risk customer. Invest in tools and processes that prevent these problems.
Even with the right information at hand, juggling all of those prospects and existing customers, each at different stages of the buyer's cycle, is hard work. You need to set up an alert system for when something falls through the cracks. You want to help your people avoid these situations. It's important to keep the customer at the center of everything you do.
5. Develop Sales Enablement for Product & Pricing Information
As previously discussed, sales teams spend a minority of time actually selling--the function they do best. They are sales pros, not product experts or thought leaders. Your sales enablement should easily give them the product/service information necessary to communicate with prospects. In addition, everyone should communicate off a shared playbook, not each spending time creating their own versions. Miscommunication or overpromises can cost you a customer.
Providing recommendations or guardrails for pricing and negotiations is another form of sales enablement. Consistency is important. By tracking and analyzing quote acceptance and denial, you can uncover irregularities and minimize the number of disappointed or lost customers. Set up alerts when individual and team quote analytics indicate a potential problem closing sales.
Get Data Analysis Helper--Intelligence for High Performing Sales and Service
One tool that can help with these five recommendations is Data Analysis Helper. This Salesforce®-native app from Passage Technology contains helpful analytics packs: Sales Performance Intelligence, Territory & Segmentation Intelligence, and Account Performance Intelligence. It converts any of your Salesforce data into actionable insights, notifications and reports--without admin or IT help. Act on the information you need to improve sales and service performance and productivity.
Data Analysis Helper is available in the Salesforce AppExchange. It can be used as-installed or is easily customizable for specialized needs. This app puts valuable information and KPIs at your fingertips in ready-made fashion with pre-built dashboards, charts, and alerts that allow you to focus on customers and sales, not research and data mining. You don't need to look for this analysis--it comes directly to you, in a format easily shared and understood throughout your organization.