Why B2B Sales Leaders Need to Analyze Both Today's Macro & Micro Trends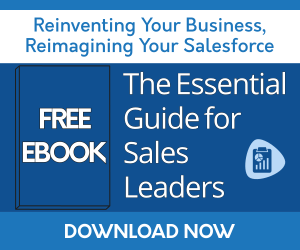 After the pandemic shock of 2020-21, businesses are consistently hearing from analysts that the general sales process has changed, perhaps permanently. There is no shortage of analysis and advice available. In response, Sales Leaders are trying to make the specific adjustments needed to boost sales performance.
Responding to a Changing Sales Landscape
Businesses must address changes in B2B buyers' behavior, a movement which had already started pre-pandemic. Analyst firms, like McKinsey & Company and Accenture, have done research that shows long-held best practices are shifting. These macro environment issues can't be ignored.
Certainly, customers are demanding better digital experiences, and sales teams are engaged in more remote selling. In addition, companies are investing in more technology. These situations require development of new sales methods. (Check out our new infographic: Digital Trends Affecting B2B Sales Teams)
However, there is no cookie-cutter approach to the new normal for sales organizations. Best practices from sales analysts are important guidance. In addition, how other organizations perform can offer valuable context, but it might not always provide all of the insights needed.
Analyzing Your Sales People, Processes & Technology
Some of the most valuable analysis comes from comprehensively looking inward because every business has its own unique challenges. Each business faces its own micro trends alongside the macro trends. That's why it is important to establish a system for sales analysis that fits those unique needs—both for serving customers and improving sales rep performance.
Sales Leaders need to measure benchmarks relevant to their organizations. As it is said, you can't improve what you don't measure. Then, Sales Leaders need to choose and track the right KPIs related to those benchmarks. These sales analytics can help with better forecasting, meeting quotas, managing customer relationships, assessing team and rep performance, and providing meaningful sales coaching.
It starts with the data found in Salesforce. But it can be quite a chore to use Salesforce's native tools to turn that data into information. So it is vital to find the right sales analysis tool or technology that quickly translates existing sales data into actionable insights to guide people and processes (and potentially the acquisition of additional technology).
Developing a Performance Plan
To take advantage of the evolving sales landscape and create a competitive edge, the business's micro sales analysis should be matched up to the macro environment. Once opportunities for improvement are discovered, Sales Leaders need to propose solutions backed by analysis, to get buy-in from both executive leadership as well as sales team members.
Areas of analysis may include these categories:
How is the business tracking toward achieving stated goals?
Do certain trends indicate warning signs or go signals?
Do certain metrics suggest some processes need to be revisited and either revised or accelerated?
Do individual rep metrics lag or exceed the standards of others, requiring negative or positive attention?
How are lead and pipeline performance?
Are accounts at-risk or being neglected?
Are sales people getting individualized coaching based on their skill sets and results?
For example, while the increase of remote selling may provide certain advantages, one of the downsides is that sales coaching is on the decline, according to recent studies. Yet, the highest performing sales organizations consistently report that their Sales Leaders devote half or more of their time on coaching. (Check out our new infographic: The Best Sales Leaders Are Sales Coaches)
The Essential Guide for Sales Leaders
Business transformation can be difficult, and sales organizations are not exempt. To help, Passage Technology developed a series of e-Books under the theme of Reinventing Your Business, Reimagining Your Salesforce. These Essential Guides for Business Transformation are free to download. (Check out our blog post, "Getting Essential Guidance to Innovate, Adapt, and Thrive," for additional info on the entire series.)
One of the e-Books, The Essential Guide for Sales Leaders, offers insights on how to extend the capabilities of Salesforce with valuable sales analytics. With the right data at their fingertips, Sales Leaders are in a better position to help sales organizations improve performance while delighting their prospects and customers.
In these challenging times, getting more out of Salesforce can help take a business to the next level. Get your free Guide today.
Tags:
Account Management
,
Sales Effectiveness
,
Sales Productivity
,
Sales Performance Intelligence
,
Data Analysis Helper
,
Territory and Segmentation Intelligence
,
Sales Management
,
Sales Performance
,
Account Performance Intelligence
,
building reports in Salesforce
,
revenue metrics
,
business transformation
,
Essential Guides for Business Transformation
,
digital transformation
,
Sales Coaching