Using Lookup Helper for Lead, Contact to find Individual
Part 1: Individual lookup setting
An Individual lookup relationship field with Lead or Contact as the child object is required. If one doesn't already exist, it can be created beforehand via Setup or during Part 2 (below) via Lookup Helper. Security can be set at the same time via Setup, or in Setup afterwards if done during Part 2.
Via Setup: Object Manager>select Lead or Contact (one Individual can have multiple of these records associated)>Fields & Relationships>New>STEP 1, DATA TYPE: Lookup Relationship; next>STEP 2, RELATED OBJECT: Individual; next>STEP 3, DETAILS: complete; next>STEP 4, FIELD SECURITY: determine by profile; next>STEPS 5, 6; PAGE LAYOUTS: complete; save.
Via Lookup Helper: (during Part 2 at step 2) Create New Lookup Relationship>PARENT OBJECT: Individual; FIELD NAME: Individual; CHILD RELATIONSHIP NAME: provided but can be changed. Once setting is complete, set field level security in Setup.
Part 2: Lookup Helper setting
Step 1. Select Child Object, Lead or Contact (Lead shown in example).
Step 2. Select Maintain Existing Lookup Relationship, the Lookup Field created in Part 1.
Step 3. Select Lookup Helper Setting Type (Field matches Field shown in example). Provide setting name (Advanced Settings optional), then save and run.
If the lookup field was created via Lookup Helper at step 2, modify security settings by: Object Manager>Lead or Contact (used in Part 2 step 1)>Fields & Relationships>find field; select>Set Field-Level Security. Then, add to page layouts (NOTE: this cannot be done via find field; edit>Change Field Type and must be done via Page Layouts).
Part 3 (optional): Realtime enablement
To keep this lookup field updated as new Leads are created, activate the setting then deploy a real-time trigger for the Individual in the Enable Real Time tab following the on-screen instructions.
Part 1 Walkthrough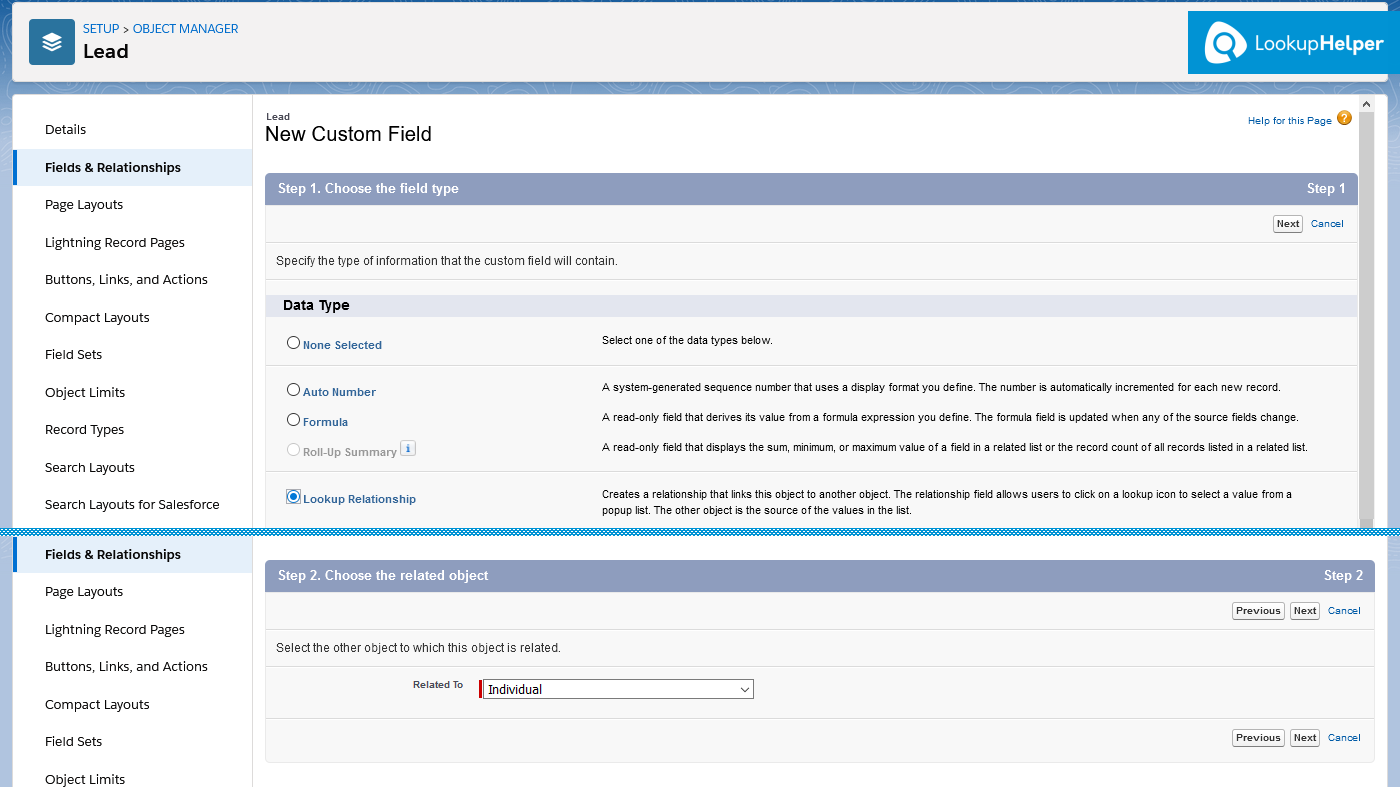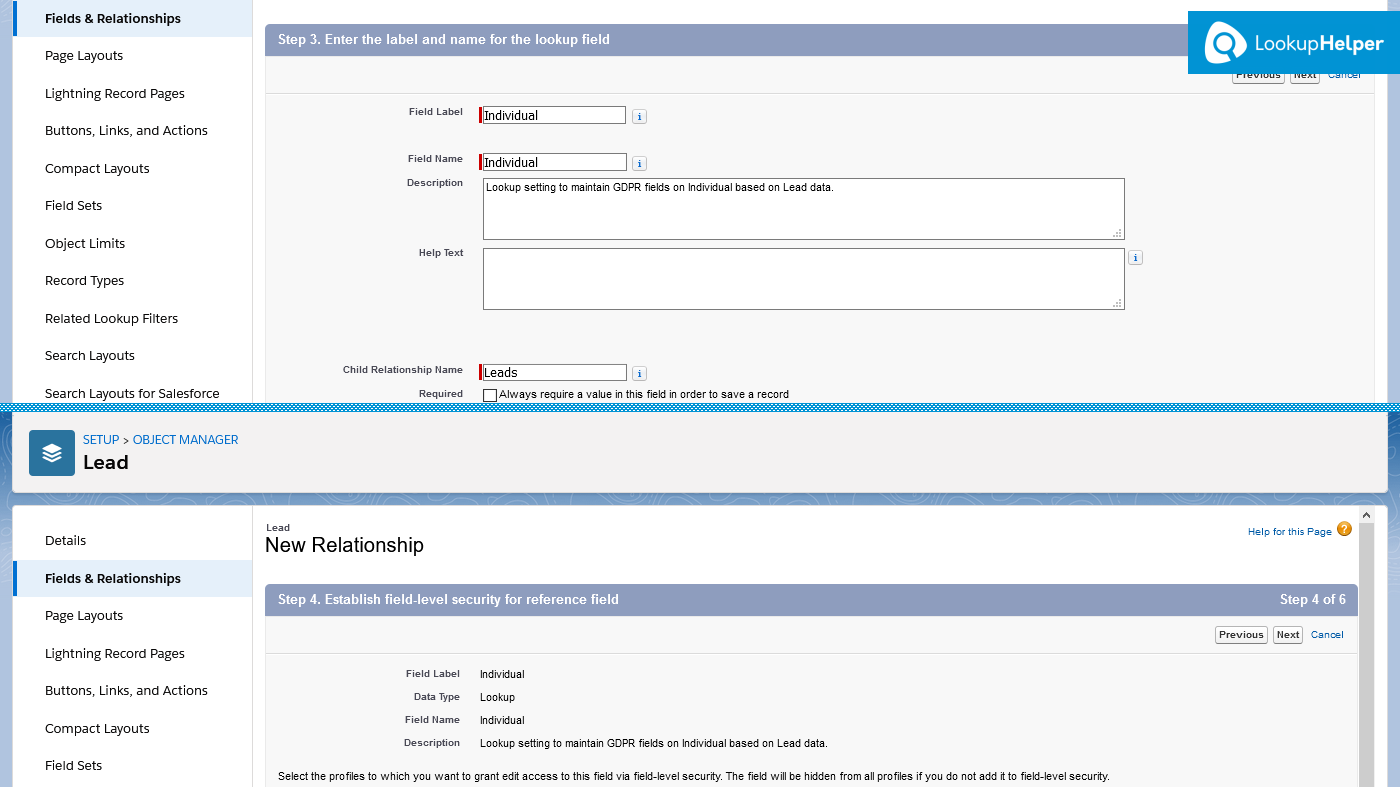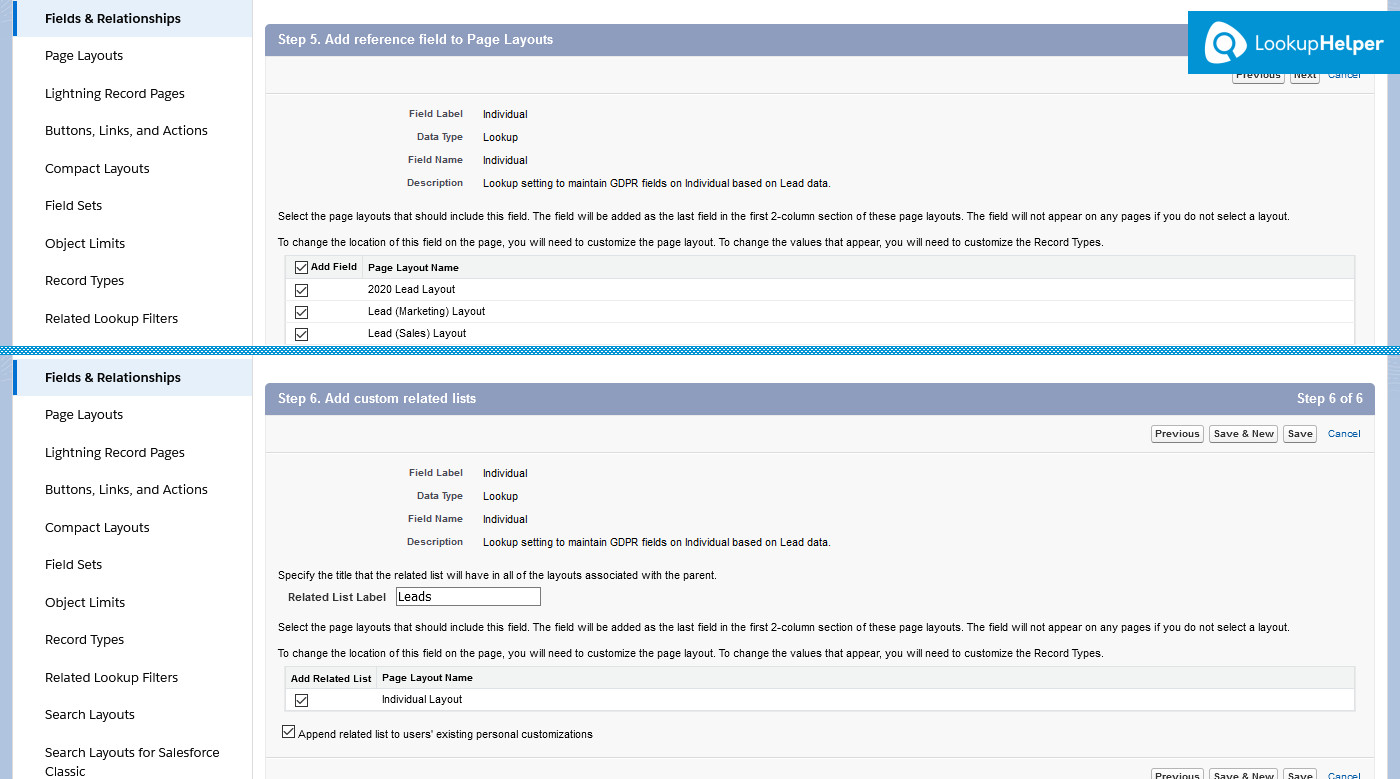 Part 2 Walkthrough