Improving Salesforce User Adoption with Training and Lightning Sync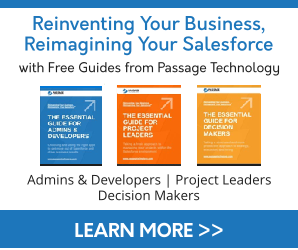 User Adoption. Salesforce is a powerful tool that helps businesses grow. In order to truly realize the benefits, users need to adopt the platform. When they don't, discord can be created and revenue goals put in jeopardy.
For example, there's an age-old dispute between sales, sales leadership, and administrators. Each role in a company has their own responsibilities and challenges. At the end of the day though, they are all working toward an ultimate goal of increasing revenue for their company. Let's take a look at their possible points of view and how they can resolve the dispute.
Sarah is a Sales Rep. She is tasked with exceeding company sales goals. She is making phone calls, sending emails and meeting with prospective clients in person. There aren't enough hours in the day for her to contact everyone she would like to. She certainly doesn't have time to add contacts to Salesforce or to copy paste her emails into a task record. She fears that she is going to miss out on opportunities because she isn't as organized as she should be. She is taking some heat from her sales manager, Jen, who is insisting that she logs calls and opportunities in Salesforce. She's also hearing complaints from her admin, Ben, who needs the data logged for some reports he is working on.
Each persona is justified in their concerns, but what is the resolution?
I have worked in all three roles and have personally experienced different aspects of this phenomena. What it all boils down to is increasing user adoption. By helping Sarah to adopt using Salesforce, we will ultimately help her be more productive and successful. Ultimately, we will be helping Jen and Ben as well. With increased user adoption, their challenges are minimized. Sales management now have fewer concerns about missed opportunities and admins have the data they need to answer some tough questions with reliable reports.
There are several options when it comes to how to increase user adoption, we are going to take a look at helping sales users appreciate the value of using Salesforce and using Lightning Sync to make the application easier to use.
First, let's help Sarah by providing knowledge about what a powerful application Salesforce is, how easy it is to use, and how to use it. Trailhead is an amazing resource that can satisfy all of these needs. With the recently added ability to create your own Trailmixes, training content can easily be customized. I've created a Trailmix, Sales User Basics, with this purpose in mind.
There are countless ways to automate processes in Salesforce. Let's look at how we can help Sarah with Lightning Sync.
Using Lightning Sync with Salesforce and Microsoft or Google applications like Microsoft Outlook®, Word, Gmail™, or Google Calendar™ makes everyone's job easier.
Sales reps are typically on the go and doing most of their work from their email or calendar. By setting up Lightning Sync, and using Salesforce products, reps can automatically log emails and events from their email application. Oh, and by the way, if they are using Lightning for Gmail, or Salesforce for Outlook, they can view related records directly from their email application without having to switch to Salesforce.
But wait, there's more. Did someone say Mail Merge? Merge fields allow key information to automatically be populated to personalize content for letters, labels and more.
So, which products are best for the integration at your company? Before any implementation begins, it is good to understand what options are available and discuss them with key stakeholders. The Salesforce documentation, Work with Salesforce from Microsoft® or Google Applications should help.
Lightning Sync is available to sync with: Salesforce Classic, Lightning Experience and Salesforce1 and can be set up with either Classic or Lightning Experience. It is available in Professional, Enterprise, Performance, Unlimited, and Developer Editions with Sales Cloud, Service Cloud, and Force.com.
Some items to consider pre-rollout: Lightning Sync Considerations
Enabling Lightning Sync and setting up either Salesforce for Outlook or Lightning for Gmail does require a bit of work, but is well worth the effort. For step by step instructions and some excellent reference materials, please check out these Trailhead Trails:
Outlook Integration
Gmail Integration
For further assistance, please email sales@passagetech.com.
Do you have some great User Adoption ideas? Please let us know by commenting below!