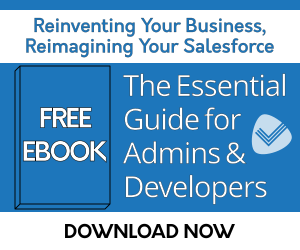 Do More with a Little Help from Your Friends
Like the Beatles' song, when you have a little help from your friends, you can do so much more.
An accelerator for Salesforce Admins/power users, business analysts, and developers, Passage Technology's "Admin Apps" allow you to stop coding where you don't have to, so you can focus on your organization's key goals.
Here's a list of seven common problems Salesforce Admins experience with data and tips on how Passage Technology's apps—Rollup Helper, Lookup Helper, Data Quality Helper, and Storage Helper—can help to overcome them.
1.

Accessing Actionable Data for Business Processes
Whether your data is in a standard or custom object or an AppExchange application, Rollup Helper provides real-time, actionable data for your business process. Results can be used in flows, validation rules, formula fields, and in workflow rules, where allowed. Plus, you can rollup using a master-detail or lookup relationship, which includes rollup data types for all field types.
2.

Finding Relevant Information for

Building & Running Reports
By allowing Lookup Helper to relate all of your important information, your users will be able to easily find relevant information by leveraging the standard Salesforce related lists and lookup hover-over capabilities. It also works with standard and custom objects. You can:
Auto-populate lookups using record matching rules
Match records using ID/record name
Match records by matching field values
Group data by time period or geography or any other category
Rollup Helper empowers you to build mission critical reports and trigger intelligent data-driven workflows. Do you have a complex rollup scenario? You can easily transform data into real-time reports, and all data stays safe and secure in your org. To boost reporting capability, cross object rollups and custom filters allow you to rollup data to a centralized object.
3. Automatically

Match Related Objects
Lookup Helper automatically relates records based on the criteria the Admin has set. Since new users don't need to manually fill in those lookup fields, it reduces the number of steps that are needed. Lookup Helper automatically looks for any already existing match to the criteria, reducing cases of users not finding the record and creating a duplicate. Following is an example from a use case about this topic: Lookup Helper Setting that relates a Contact to an Account, comparing a custom text field "Company" on Contact to the Account Name.
Without the Setting
You would enter the Contact's information and search Salesforce for the appropriate Account.
If you don't find the Account, then you would need to create one.
Next, you would need to fill in the details (many of which might already be on the Contact), and associate the Account to the Contact.
With the Setting
You simply enter the Contact information and fill in the "Company" field with the name of the Contact's Company. Lookup Helper searches for an existing Account with that name. This removes the possibility of entering typos while searching for the Account and creating a duplicate one. For more details and illustrations, read the full use case.
4.

Elevating Data Quality in the Org with Smarter Duplicate Management and Record Validation
It's the Admin's job to manage the Salesforce platform and its information. However, their knowledge about the actual information contained in the org is limited; it's the Salesforce users who understand, enter, and use the data. So ensuring and improving data quality requires a team effort to be successful. Ideally, the Admin sets the comprehensive and uniform parameters for creating, updating, and maintaining data, while the users do that work under those parameters. Data Quality Helper helps achieve those goals with specialized data quality tools that exceed default Salesforce functionality.
Customizable Rules for Smart Data Validation and Smart Duplicate Data Resolution
Different users use Salesforce in different ways. Validation rules help ensure that certain processes and minimum requirements are followed, or Salesforce prevents the Save. Data Quality Helper gives Admins more flexibility by establishing smart validation rules, displaying the warning before or after the Save, or allowing users to ignore warnings. Admins can customize the warning messages and formatting.
Duplicate data in Salesforce silently sabotages business productivity and efficiency. Data Quality Helper lets Admins determine sensitivity matching criteria for any standard or custom Object. Then when potential duplicates are found or about to be created, users are notified so they can evaluate if there are true duplicates and are given multiple options for how to merge data into one corrected master record.
Data Quality Helper has a home page component that shows a view of all identified and unresolved validation and duplication issues. So the app is constantly watching over all of your valuable data. This lets you elevate data quality now and in the future.
5.

Managing Data Storage Space & Strategy
Storage Helper safely mass deletes data for any standard or custom object(s), helping reduce your Salesforce Data Storage costs. Storage Helper backs up all of the Salesforce records that it deletes to a .csv file before the deletion occurs. As an added level of security, it gives you the ability to preview your records before running the Storage Recycle Job, so you can verify that you've selected the correct criteria. Storage Helper allows you to:
Keep your org free of unwanted data. It automatically deletes old or otherwise unnecessary records on ANY object, helping you free up costly data storage with just a few clicks.
Safely delete Salesforce data using our native app with optional built-in storage backups that will be stored in your Salesforce environment as .csv files.
Save money: Save on Salesforce data storage fees

.
6.

Enhancing Workflows with Real-Time Data
A great way to use Rollup Helper is to combine the target rollup fields that Rollup Helper calculates with old workflow rules and new flows. For example, when projects go over budget or are delayed, you'll want to have access to this information at the project level to use in a workflow rule or flow.
When you combine Rollup Helper + workflow or flow + a project management system like Milestones PM+, it creates a more organized workflow within Salesforce. With Rollup Helper, your workflow can be based on all your critical data changes, ranging from text, a picklist value, numbers, and formulas to currencies.
7. Connecting Information & Records
A challenge Admins face is how to connect information and records about a person together. The Individual Object in Salesforce allows you to tie the information about a person together from all of their Lead, Contact, Person Account, or custom Object records. Whether you need to establish GDPR compliance or you're managing customer privacy preferences, Admin Apps are easy to implement and maintain, and provide reliable, scalable solutions for automating Individual Object processes.