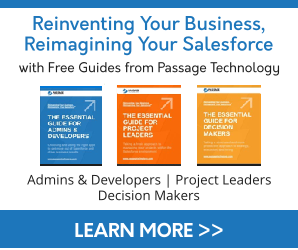 Back in 2008, Jerry Reid and Brent Gossett couldn't possibly imagine their app would eventually be the 10 millionth install on the Salesforce AppExchange. They were just trying to provide a solution for a client's use of Salesforce.
Rollup Helper would later become one of the AppExchange's most popular apps, installed into more than 60,000 orgs and counting. So when they recently learned their app was the 10 millionth install, it was totally unexpected, but not completely surprising given its universal popularity. (Check out our 10 Million Celebration Page)
"We're thrilled that Rollup Helper hit the lotto with that 10 millionth install," said Brent Gossett, co-founder of Passage Technology. "There are so many great Salesforce consulting and ISV partners, and we are truly honored to be just one of the contributors to this important milestone."
The Road to AppExchange Success
Their passage from a home-basement startup office to a four-time Inc 5000 company is a familiar entrepreneurial story, almost cliche in the software industry. But that doesn't make it any less true. Today, Passage Technology has developed six apps, offers custom development services, and employs 37 people full-time. Their customers range from small companies to Global 500 companies in all industries and markets.
"It's really a testament to the effectiveness of the Salesforce ecosystem," said Jerry Reid, co-founder of Passage Technology. "It's a shared environment where partners can contribute and thrive alongside Salesforce. The result is the #1 CRM in the world, with hundreds of thousands of companies and millions of their customers benefiting."
According to his book Trailblazers, Marc Benioff had a vision that developers anywhere in the world could create their own applications to supplement the Salesforce platform. Salesforce would store these apps in an online directory, ready for users to download. Some 15 years later, that vision has become the largest enterprise cloud app marketplace, AppExchange.
How Rollup Helper Got to 10 Million
When Passage Technology launched its 100%-native, adaptable project management solution, Milestones PM+, its first customer noticed a gap in the capabilities for syncing up the dates in its project plans. This date syncing problem uncovered a major unmet rollup and aggregation need on the Salesforce platform. After exploring what Salesforce had to offer, Reid and Gossett decided to build a custom solution—later transformed into the app, Rollup Helper.
The app is designed to help Admins create rollup relationships without the need for code and code maintenance. This eases workload and backlog, leaving more time and resources for more advanced needs on the Salesforce platform. Further, when used in conjunction with the Lookup Helper app, which helps Admins conveniently create advanced lookup relationships with clicks not code, company data is turned into actionable information.
"While both apps are known as 'Admin Apps,' the real impact is felt downstream with a company's Salesforce users," said Reid. "Marketing, Sales, Revenue Operations, and Customer Success teams can easily extract information, strategically create insights, and better serve their customers, whether internal or external."
Rollup Helper, Lookup Helper, Storage Helper, and Milestones PM+ have all spent time in the Top 24 apps on the AppExchange.
The AppExchange: Businesses Collaborating with Businesses
The overwhelming success of the AppExchange, evidenced by the 10 millionth install, goes beyond its commercial marketplace of 3,400 apps and numerous consultancy services. It's a solutions finder for so many differing business situations.
The company that did the 10 millionth install is Telsi, which provides contact center performance solutions out of its headquarters in France. The person who actually installed Rollup Helper works at Interactiv-Group SAS, specializing in contact interaction management and working with Telsi.
This 10 millionth install is just one example of how Salesforce facilitates not only customer relationship management, but also partnerships among businesses seeking economies of scale. From Salesforce and Passage Technology, to Interactiv-Group SAS and Telsi, it's a connected chain of commerce pursuing a single source of truth and mutual gain.
"The Salesforce ecosystem and AppExchange offer tremendous opportunities for the partners that participate and the customers they serve," said Gossett. "Salesforce wants and needs its partners and clients to succeed. With the momentum it provides, it won't be long until we hear about another partner having its app be the 20 millionth install on the AppExchange."