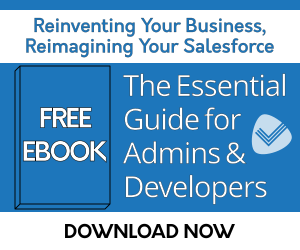 It's important to do a Salesforce Health Check periodically, so you can maximize the efficiency of your org and get valuable insights.
Whether you're an Admin, a project manager, or a consultant, it's important to do a Salesforce Health Check periodically, so you can maximize the efficiency of your org and get valuable insights.
But that's easier said than done, since the amount of data that companies need to manage has been rapidly increasing. Mulesoft reported in their White Paper, 4 Steps to Create a Data Driven Business: "IDC predicts that the amount of data in existence will grow from 33 zettabytes in 2018 to 175 ZB by 2025. That is five or six times growth on an already large scale."
In the Salesforce Ben blog How to Perform a Salesforce Health Check, Joseph Rishe discusses the other challenges Admins face. "As a Salesforce Admin, developer, and consultant (for over a decade now), I know how difficult it can be to maintain a healthy, mission critical org. Every day, critical processes are flowing through the system, users are asking for changes (if you are directly involved in managing the system), and new projects are in the works (especially if you are a PM)," writes Rishe.
How's your org doing?
If you experience the following issues in your Salesforce org, you need to run a health check:
Functionality that's duplicated or not being used

Too many dashboards and complex reports that are hard to manage

Inability to get insights from data

Salesforce org is slow and environments are out of sync

Reaching the Salesforce governor limits
1. How to Trigger an Account Health Check
You can use Rollup Helper to trigger an account health check. To trigger an automated health check on an account with a workflow, just check if an account has more than X number of cases open. This workflow can notify management to review the cases with a full account review.
First, you'll need to create a rollup, which will return the number of open cases the account has. Then use a workflow to alert the appropriate people. Finding accounts with a large number of open cases can help you identify inefficient internal processes, so you can streamline and improve them.
Here's the complete guide with the steps you can follow to Trigger an Account Health Check.
2. Clean up Outdated, Unused Data in your Org
Storage Helper safely mass deletes data for any standard or custom object(s) and helps you reduce costs on Salesforce Data Storage. It saves you from paying for more storage space when you don't have to, while backing up all of the Salesforce records that it deletes to a .csv file before the deletion occurs. By cleaning up the data in your org, you remove the confusion and ambiguity that can surround it while empowering people to find the information they need faster.
Health check use cases for managing storage include:
Mass Delete Old Emails, Auto-Responses & Case Email Messages
3. Get Better Data and Insights
Lookup Helper gives you better visibility and insights to your Salesforce data by automatically relating records. For standard and custom objects, it allows you to organize your data by geographic location, time-frame, industry, or any other data category. When you have better data, it helps increase user adoption, so you can reach your company's goals faster.
Following are use cases for organizing and relating records:
Relate Records Based On Matching Field Values
Set Queue Custom Object on Any Standard Object
Easily Access Aggregated Rollups/Metrics Without Complex Reporting
Identify and Eliminate Duplicate Records
4. Easily Manage your Health Check Project
The day-to-day for a busy Admin balances critical tasks and long-term goals. With Quarterly Health Check projects, Admins are reminded (even scheduled) to focus on areas often overlooked but not any less important. By designating a set amount of time for various items, Admins are able to turn their attention on these areas and plan their days accordingly for the duration.
Milestones PM+ is a free project management app that can be used to help Admin's with routine health check templates including Milestones and Tasks such as:
Security - MFA, user permissions, unused apps and system updates

Data - Deprecated fields, process check-ins, user request follow-ups
To learn more, see the use case for managing health check projects: Salesforce Health Check Projects for Admins.
Whether you combine them or use them individually, these apps are powerful tools that can help you maintain an efficient and healthy Salesforce org. Be sure to check out our Helper Suite for bundling options.