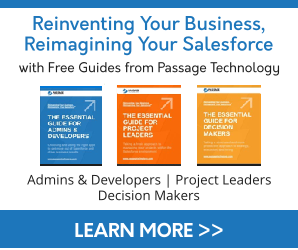 Overcome Business Transformation Challenges & Extend Salesforce®
There's a saying that life is not about the destination—it's about the journey. Business transformation is an ongoing journey that accelerated during the past year and has continued. Typically when organizations undergo a business transformation it's in response to a change like the global pandemic. But the reality is that change is happening all around us. It's a constant in life—and in business.
"The ability to adapt with change is crucial for businesses wanting to ensure a competitive advantage. Businesses are therefore looking to become more agile so they can flex and adapt in response to constant change," explains the Guide to Business Transformation.
As part of this adaptation, businesses are continuing to undergo rapid digital transformation to innovate. Salesforce reports, "Today, 96% of global organizations have undertaken a digital transformation or are planning to in the coming months."
The results of a study by McKinsey show that in addition to the acceleration of digital, the crisis brought on by the pandemic has changed how executives think about technology. McKinsey reports, "In our 2017 survey, nearly half of executives ranked cost savings as one of the most important priorities for their digital strategies. Now, only 10 percent view technology in the same way; in fact, more than half say they are investing in technology for competitive advantage or refocusing their entire business around digital technologies."
"With digital transformation, companies are taking a step back and revisiting everything they do, from internal systems to customer interactions both online and in person. They're asking big questions like 'Can we change our processes in a way that will enable better decision-making, game-changing efficiencies, or a better customer experience with more personalization?'" explains the Salesforce report.
Overcoming Transformation Barriers with a Single Source of Truth
To move digital transformation forward in their organizations, 99% of the respondents in the Salesforce survey agree teams need to collaborate. "However, several challenges are preventing these teams from collaborating effectively in pursuit of digital transformation—including poor communication (49%), insufficient people resources (48%), and misalignment on priorities (32%)," explains the report.
One of the advantages of using the Salesforce platform is the ability to have a single source of truth. This allows data to be stored centrally and accessed on demand.
Digital transformation results in more data, and provides a fuller view of your customers, but it also adds more complexity. Salesforce found that only 33% of marketers are completely satisfied with their ability to use data to create more relevant customer experiences. How do you bring it all together so teams can collaborate and use data effectively?
Streamline Digital Transformation and Extend Salesforce
Whether your business is B2C or B2B focused, when it comes down to it, the customer is at the center of everything you do. Our mission at Passage Technology is to extend the capabilities of the Salesforce Platform and put data in your hands. We want to help take your business to the next level, so you deliver exceptional experiences.
For example, Salesforce Admins and Developers need to solve problems and learn new skill sets daily. But there's a conflict when internal business customers constantly need data from their Salesforce org translated into actionable information. So when you can reduce the need for Admins and Developers to write custom Apex code, it resolves this conflict and creates more time for Admins to focus on insights and creating reports that drive the business forward.
By using clicks instead of code to deploy data rollups and lookups, Salesforce Admins and Developers can reduce the churn caused by customization. End-Users are positioned closer to the tools, data, and insights they need. This sets the foundation for business transformation in ways that improve outcomes for all stakeholders and customers of the business.
In our e-Book series Essential Guides for Business Transformation, we'll show you how the Salesforce Platform can be extended, so you can take your business to the next level. These free guides offer insights for a number of important business functions, helping achieve meaningful business transformation and continuous improvement.
Download The Essential Guide that interests you—or the entire series—to support your business transformation journey: