How to Get More from Digital and Connect with Your Customers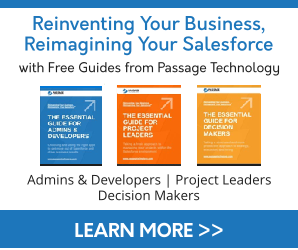 Is Digital 360 Worth the Hype? The short answer is "absolutely."
Digital 360 has recently become the new industry standard for communicating with customers on the level they have come to expect. It allows businesses to connect with their audiences on the platforms they prefer, and the way they want.
"Salesforce customers know how important digital transformation is. And this is the next step in helping organizations bring the data they need together, so they have a full picture of their customers." -Jerome Reid, Co-Founder of Passage Technology
Passage Technology has been a Salesforce Partner since 2008, witnessing first-hand how evolving technologies have benefited businesses. Today, they heavily rely on Digital 360 to deliver a single source of truth for their clients. "Whether that information is in different systems... or the data is across different departments....now companies can use all the data they have to truly understand their customers and provide more personal experiences via a community portal," says Jerome Reid, one of the co-founders of Passage Technology. "Salesforce customers know how important digital transformation is. And this is the next step in helping organizations bring the data they need together, so they have a full picture of their customers."
Since digital transactions have skyrocketed over the past year, the companies that adapted accordingly ended up excelling tremendously. You've probably noticed some of these changes, such as retail stores offering curbside pickup, food delivery apps offering no-contact delivery, or even being able to view your barber's calendar to schedule a time for him to come to you. Digital Transformation has become more than a luxury—it's also a necessity.
"Survey respondents estimate the average order value (AOV) of self-service orders was about half of in-person purchases. This points to the need to enhance the online ordering experience."
-Jerome Reid, Co-Founder of Passage Technology
Digital 360 keeps your company competitive, accessible, and desirable. It means you can begin to market, sell, and engage your audience anytime, anywhere. Plus, it helps create brand loyalty and advocacy.
But how? Jerome Reid explains it best by stating, "Instead of thinking in silos, departments think about the customer experience from the outside. If sales, marketing, and support have all the same information, they won't need to ask customers redundant questions or have outdated information. It will feel like one seamless experience to the customer, which ultimately makes customers want to return."
Digital 360 is particularly valuable to today's businesses because it combines industry-leading marketing, commerce, and experience clouds to help create seamless online interactions. It also has three exceptionally important aspects responsible for the success of its users:
It's driven by data. By integrating your commerce systems, marketing technology, service portals, and social media together on a cloud-based platform, you can effectively create a more educated strategy.
It's obsessed with customers. After compiling and organizing all of your data, you'll be able to create personalized experiences for everyone, essentially giving you the power to please every customer.
It's future-proof. Instead of a standard software update, Digital 360 is designed as an evolving technology in itself. In other words, everyone and everything else adapts to Digital 360, as it's become the industry standard of making companies—and technologies—absolutely agile.
With Digital 360 becoming essential for growth in today's marketplace, Passage Technology has the expertise and proven track record for successfully extending the capabilities of all Salesforce has to offer. Simply put, Digital 360 offers customizable tools to streamline every aspect of your business.
Want to see how Digital 360 has helped customers?
About Salesforce
Salesforce is the global leader in Customer Relationship Management (CRM), bringing companies closer to their customers in the digital age. Founded in 1999, Salesforce enables companies of every size and industry to take advantage of powerful technologies—cloud, mobile, social and artificial intelligence—to create a 360° view of their customers. For more information about Salesforce (NYSE: CRM), visit: salesforce.com.
About Passage Technology
Passage Technology is a trusted provider of native Salesforce apps and development services. A Salesforce Consulting and AppExchange Partner, its apps frequently appear in the Top 24 apps on the AppExchange. Since 2008, Passage Technology has empowered 30,000+ customers with administration and project management tools, and custom developed solutions. Passage Technology is an Inc. 5000 company that ranked 25th on the 2018 Best Places to Work in Chicago by Crain's Chicago Business. Headquartered in Lake Forest, Illinois, Passage Technology has a 100% work-from-home workforce, and its employees are located nationwide. Passage Technology's customers range from small companies to Global 500 companies in all industries and markets. Get more from digital.