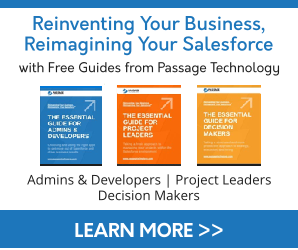 Helping Education Clients Make the Most of Their Salesforce Org
As the new school year begins, many school systems are struggling to meet the increased needs of their students and families. In its "Supporting Student Success in a Changing World" guide Salesforce® reports, "The world is significantly different today than it was even just months ago. External factors that may not appear to have a direct impact on education can affect our students in surprising ways."
How can technology help? To help schools overcome challenges and meet the needs of students, Salesforce developed Education Cloud for K-12. The solution gives educators the ability to track students' progress in real-time, as well as access to insights that are making a difference. Salesforce.org Education Cloud customers have seen improvements such as 38% faster response to student needs and a 30% increase in work-based learning attendance.

But sometimes clients need more than what Salesforce can provide out of the box. At Passage Technology, we give Salesforce partners additional tools to help their education clients overcome challenges and make the most of their Salesforce org.
Read the stories below to see how our apps can help organizations in the education industry achieve their goals.
Leveraging Data to Improve Student Outcomes
Nationally, only eight percent of ninth graders in low-income communities are expected to graduate from college by age 25. OneGoal is an organization that's dedicated to changing this reality. OneGoal targets under-performing students in low-income high schools with an average incoming GPA of 2.7 and an incoming ACT/SAT score of 15/729 to become OneGoal Fellows.
OneGoal uses Salesforce.com as its primary tool for tracking student outcomes, but they needed the ability to quickly rollup custom Objects on contact and organization records to ensure that their Fellows were on track. For example, although OneGoal's custom Object "College Applications" tracked the colleges their Fellows apply to, they needed to see how many Fellows submitted X number of applications or were accepted to Y number of schools.
They chose Rollup Helper, and now OneGoal has numerous rollups that pull key metrics aligned to their goals and benchmarks. Since their bottom line is student outcomes, this information allowed OneGoal to provide better and more differentiated support to their Fellows. The data helps Fellows apply and enroll in the right colleges for them and, ultimately, graduate from college. (Read the full story: Passage Technology Helps OneGoal Leverage Data from Rollup Helper to Improve Student Outcomes)
Improving Productivity and UX for the StudentsFirst Team
StudentsFirst is an organization that supports the interests of children in public education, as well as state and local efforts to promote educational policy and reform. They were experiencing challenges with meeting all their reporting needs due to limitations of standard rollup summary fields. They needed to identify emerging leaders, as well as see how active local and state entities were in pursuit of educational policy advancement. To achieve this, StudentsFirst needed the ability to rollup data throughout a complex campaign hierarchy.
StudentsFirst used Campaigns and Contact management via a mix of standard rollup summary fields as well as the more flexible rollup summary fields offered via Rollup Helper to get the data they needed. The result: Rollup Helper improved the user experience for their staff and increased their productivity, helping them focus on those emerging leaders and activities that provide the most opportunity. (Read the full story: Rollup Helper Improves User Experience for the StudentsFirst Team)
Do you have a client in the education space? We can help you find the right solution for your clients. Contact us to get the conversation started.