Passage Technology News and Updates - Summer Edition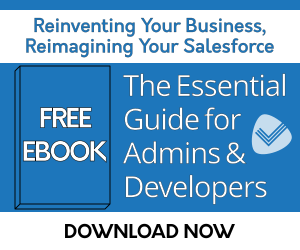 This issue features stories on how you can do more with Passage Technology's Apps and Salesforce.
Introducing Our essential guides for business transformation e-books
Business transformation is an ongoing journey that accelerated during the past year and has continued. As part of this change, businesses are undergoing rapid digital transformation to innovate and gain competitive advantage. Salesforce reports, "Today, 96% of global organizations have undertaken a digital transformation or are planning to in the coming months."
"With digital transformation, companies are taking a step back and revisiting everything they do, from internal systems to customer interactions both online and in person. They're asking big questions like 'Can we change our processes in a way that will enable better decision-making, game-changing efficiencies, or a better customer experience with more personalization?'" explains the Salesforce report.
Streamlining Digital Transformation & Extending Salesforce®
Whether your business is B2C or B2B focused, when it comes down to it, the customer is at the center of everything you do. Our mission at Passage Technology is to extend the capabilities of the Salesforce Platform and put data in your hands. We want to help take your business to the next level, so you deliver exceptional experiences.
With our new e-Book Series Essential Guides for Business Transformation, we continue to deliver on that mission. These exclusive, free downloadable guides offer insights for a number of important business functions, helping achieve meaningful business transformation and continuous improvement. Learn more.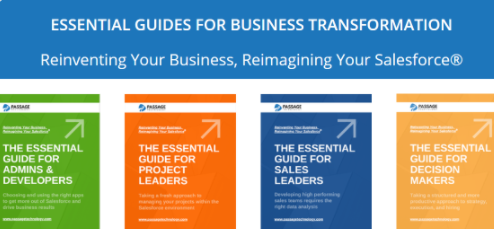 ---
Passage Technology Receives 2021 Best of Lake Forest Award
Passage Technology has been selected for the 2021 Best of Lake Forest Award in the Software Company category by the Lake Forest Award Program. This is the second year in a row that Passage Technology has received the award. Read the full article.
How to Accelerate Your Salesforce Org with the Helper Suite
The Salesforce Partner Program enables partners to build and develop successful businesses while delivering customer success. Passage Technology's apps and services can help independent software vendors (Salesforce ISVs) and consulting partners / systems integrators (Salesforce SIs) develop their businesses by leveraging no-code tools like Helper Suite apps. Read the full article.
---
App News & Updates
New Gantt Chart! Enhanced Milestones PM+ Functionality
Starting with the June 2021 release of version 11.6, a new Lightning Gantt chart is available with enhanced inline functionality, which includes updating Task Percentage and viewing record details on hover.
You can add the new Gantt to Program, Project, or Milestone page layouts in Setup>Object Manager>[Program]/[Project]/[Milestone]>Page Layouts>Visualforce Pages>[Object] Gantt Chart.

Note: the new Gantt chart is not compatible on the Salesforce mobile app at this time; for extensive mobile use, retain the current Gantt chart.
The new Lightning Gantt chart is shown below.
About Milestones PM+
100% Salesforce native and easily customizable, Milestones PM+ is a free AppExchange app for all Salesforce clouds (Professional and up) with complete org access to qualified customers. Instant 360-degree visibility to programs, projects, milestones, tasks, time, risks and issues, and resources provides better project management right in your CRM.
New Rollup Helper Use Case Deployment Saves Time with Prebuilt Rollups
Rollup Helper updates include a Use Case Deployment, which is available in versions 16.8. Now you can easily access Use Case Deployment from the main tile page, check out approximately 25 use cases, and then select the ones you'd like to deploy.
The use case deployment functionality allows for prebuilt rollups to be deployed without having to go through the usual configuration steps. Here's how it works:
After selecting a use case, you'll need to deploy a Custom Target Field, which will store the information of your rollup.

Next, just click "Deploy Setting" to deploy the rollup.

Then you can further customize the rollup based on your specific needs.
Click '"Deploy" on any use case for easy, one-click deployment. Note: some rollups come with filters that can be customized.
About Rollup Helper
With Rollup Helper, you can super-charge your org with capabilities that normally require extensive coding. Rollup Helper overcomes common Salesforce rollup limitations like needing a Master-Detail relationship or the inability to include cross-object formula fields in rollup summary filters. Use Rollup Helper to build mission critical reports and trigger intelligent data-driven workflows.
Lookup Helper Adds Parent Filtering Functionality
New Parent Filtering functionality has been added to Lookup Helper (v9.20), which allows additional criteria to be created for a parent record. By default, Lookup Helper matches the value of the two selected fields for the setting, so Parent Filters allow you to add additional values the parent record needs to match.
The parent record needs to match the criteria for Lookup Helper to use that parent record for that specific setting (e.g. Country = "US")

Settings will keep their parent filter with them when exported/imported

Parent filtering cannot be used if "Create New Category Records" is enabled
For example (image below), a parent filter using Country = "US" would mean the child record will look for a parent record that matches the field and has a Country field set to "US."

About Lookup Helper
Lookup Helper gives you better visibility and insights to your Salesforce data by automatically relating records. For standard and custom objects, it allows you to organize your data by geographic location, time-frame, industry, or any other data category.
Latest Prioritization Helper Release – Batch Run Schedules
The latest Prioritization Helper release v4.02 features new functionality for Value Scoring, which includes the ability to create batch run schedules. Performance and Usability Improvements for Value Scoring also include adding a setting modal that's accessible from the main Value Scoring tab.
The image below shows how to configure scheduled recurring batch runs for an Apex Value Scoring entry.
About Prioritization Helper
When it comes to decision making, obstacles can get in the way of rational reasoning. Prioritization Helper is a tool to help enable your critical business decisions. Prioritization Helper empowers teams to reach a consensus, or prioritize their objectives in order of importance while understanding how a decision was made.
---
Rollup Helper Shout Out
"You tend to take the little things for granted and just pass over them through your jam packed day. Then you see something added to a process that you've been using and realize how valuable and impactful that little change has made...The rollup group view is a game changer. When you have 100+ rollups across multiple objects in your org, having that group view makes my day just a little easier."
-Kim Wargo, Associate Vice President/Salesforce Certified Admin FineMark National Bank
---
Featured Customer Story

See how Rollup Helper transforms SquadLocker's data into actionable information, and the data stays safe and secure in their org. Read the story.
Want to see your company's success story in the spotlight? Just let us know.
---
Passage Technology's Awesome Admin Tip of the Month
"If you are unsure of how a change to be made will impact your organization it's best to first make those changes in a sandbox org and test all areas of functionality impacted by your change."
-Shawn Hepker, Passage Technology
---
How We're Paying it Forward
Passage Technology is proud to support Pledge 1%. One of the ways we are supporting Pledge 1% is through product donations to the nonprofit community. Pledge 1% makes it easy for companies to donate 1% of their staff time, product, profit, and/or equity to a charity that they choose. Learn how you can be a driver of this movement that helps companies stand at the forefront of economic and social change at Pledge 1% and our Pledge 1% Commitment.
Tags:
Project Management
,
Rollup Helper
,
Lookup Helper
,
Milestones PM+
,
Prioritization Helper
,
Data Analysis Helper
,
Salesforce
,
Admin
,
Passage Technology
,
Salesforce Admin
,
Pledge 1%
,
Rollup Filters
,
DLRS Converter
,
custom Apex code
,
Essential Guides for Business Transformation
,
use case deployment
,
Lightning Gantt chart
,
parent filtering