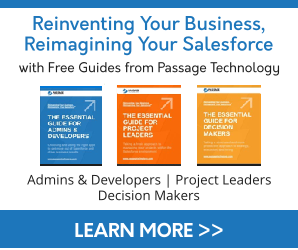 Achieve Project Management Excellence within the Salesforce Platform
Now more than ever, our work lives are full of shifts and changes. We are living in a period of rapid digital transformation, which has been accelerated by the pandemic.
Many companies are transitioning to hybrid work, where employees work two to three days a week remotely and the other days on-site. These changes in where we work and how we work together can make managing projects more challenging.
Yet hybrid work isn't something new. At Salesforce, some employees had flexible work schedules before the pandemic closed offices in 2020. Jo-ann de Pass Olsovsky, EVP And CIO, Salesforce, writes in the article, 'People First': Salesforce Exec Reveals Hybrid Workforce Lessons. "For example, pre-COVID-19, my IT staff worked from home an average of two days per week. But, remote work became the norm over the past year without affecting productivity."
What's new is that many companies with on-site workforces before the pandemic, and then fully remote workforces during the pandemic are now transitioning to the hybrid model. Jo-ann adds, "At Salesforce, we've embraced a model we're calling Success from Anywhere as we've continued to safely reopen offices around the world. This paradigm encourages everyone to work where, when, and how they'll be most effective. At any given day, an employee may be at a customer location, working from home, or working from an office."
Salesforce reports that their new Success from Anywhere model is working. "Our surveys show that employees are 16 percent more likely to agree that they're more productive at home than in the office. Meanwhile, the office remains a hub for meaningful collaboration," writes Jo-ann. In their Sydney office, they report that 64% of their lounge areas and conference spaces were being utilized compared to just 24% of the desk spaces.
Companies that are flexible are developing innovative ways to make the hybrid model work. "For example, at Salesforce, we lean on our own cloud-based apps to streamline routine tasks through automated workflows, including the new hire onboarding experience," said Jo-ann.
"While there are certainly many benefits to providing a hybrid workplace for your employees, work that provides such flexibility must also demand it. With your team spread across time zones and locations, it's more important than ever for employees to be on the same page and feel connected to one another," explains the article, How To Best Manage Your Hybrid Workforce.
Resources for Project Management Success in the Hybrid Model
A big part of project management is about managing change. While the pandemic has added more complexity to the project management process, it has also presented more opportunities for collaboration.
"For project leaders, it's been a time to build bridges," according to the PMI Megatrends 2021 report. "COVID-19 has disrupted our normal way of life," said Hugh Lawson, project director, Sydney Metro City & Southwest in Australia. "The challenges of working remotely and physical distancing have been difficult, but we've also seen greater collaboration and creativity. It's allowed us to do things differently."
At Passage Technology, we have been a remote company since we started in 2008. From our experience, we've learned that it's critical to have everyone on the same page. Project management touches every area of your business, from onboarding employees remotely to managing equipment and technology solutions on-site and off-site, to marketing projects.
There are many factors that contribute to setting up your project for success, like promoting teamwork, being flexible, and putting the customer at the center. Using project management software tools can help you stay organized while maximizing resources and collaboration at each stage of the project—and a project management solution that works with your CRM can help.
"In fact, it seems businesses know that having all of their business data in one place is critical, as 82% of SMBs say having their data all on one platform is important. Interestingly, though, only 64% say all their data is currently connected. A Salesforce CRM project management platform brings together two related areas and helps businesses keep data of different types unified," explains the article, Why Your Company Needs a CRM Project Management Solution.
Project management tools can help your organization stay on track, all while maximizing resources, promoting collaboration and empowering teams to deliver exceptional customer experiences. Our infographic, Driving Success in Project Management, shows how a structured project management approach can impact business transformation.
The Essential Guide for Project Leaders
Passage Technology has developed a series of e-Books under the theme of Reinventing Your Business, Reimagining Your Salesforce. These Essential Guides for Business Transformation are free to download. (Check out our blog post, "Getting Essential Guidance to Innovate, Adapt, and Thrive," for additional info on the entire series.)
No matter where, when or how business teams are working, they need to document their work and stay on track in terms of budgeting, scheduling, and transferring knowledge. One of the e-Books in the series, The Essential Guide for Project Leaders, shows you how establishing project management processes can set up your project for success by having a single source of truth.
When you stay flexible and have a single source of truth as your guide, you can strengthen your project management process and thrive in a hybrid work environment. Get your free Guide today.