Start using Milestones PM+
Install Milestones PM+ for free today and get started by using the Milestones PM+ admin guide.
Understand the basics of Milestones PM+
Highly Configurable
Milestones PM+ is a 100% native app built on the Salesforce Platform, meaning you have the ultimate flexibility for customization. It's just as easy to rename any object/tab as it is to configure.
Programs
Use Programs to group Projects together and display on the Program-level Gantt chart. A Program is made of multiple Projects.
Projects
Use Projects to track anything with a start or finish date; they can even be child Projects to a Program! A Project is made of multiple Milestones.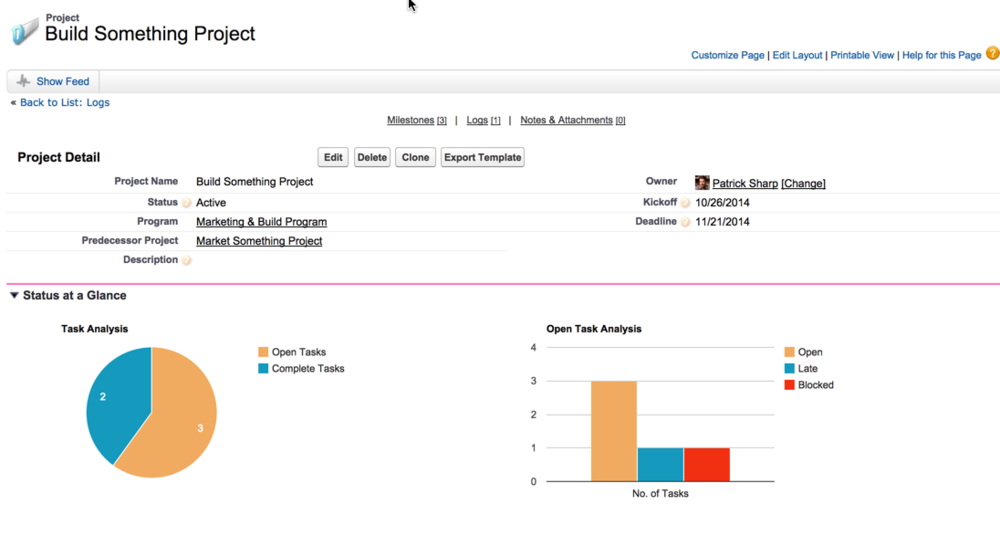 Milestones
Use Milestones to track a component of your Project that has a start or finish date. A Milestone can start and end on the same date, as is the case with a traditional Milestone marking a specific point in the Project or a Milestone can be treated much a like a phase, stage, or segment of the project. Milestones can have multiple Tasks or be related to any object in Salesforce! Milestones can be linked to other Milestones to form dependencies that are displayed on the Gantt chart. Milestones can be be cloned with their Tasks or you may use the templates functionality for the entire project work breakdown structure (Project, Milestones, Tasks) to be copied. Milestones can be moved from one Project to another (where applicable).
Tasks
Use Tasks to hold individuals accountable for delivering on specific time-sensitive items. Milestones can even have multiple Tasks or be related to any object in Salesforce! With Milestones PM+ Premium Edition, you can sync Salesforce-native Tasks with Milestones PM+ Tasks and vice versa.
Project Templates
You may create project templates for each of your Project types out of the box. A template consists of a Project, their Milestones, and each Milestones' Tasks. To create a template, click the "Export Template" button on a Project. After creating a project template file, use the "Import Template" tab to create a Project from the template file or you can setup templates to automatically create Projects from within any object. Learn more with the Milestones PM+ admin guide.
Logs
Use Logs to document critical decision, issues, or risks.
Calendar
Use the calendar to view deadlines of all sorts in a calendar format.
Gantt Chart
Configure the Gantt chart to display different units of times. Display a Gantt chart of child Projects under a Program, a Project's Milestones, or even a Milestone's Tasks.

Summary view
Summary tab shows a Milestone-level Gantt chart of each Project with option to search for a Project. Can drill down into each Project.