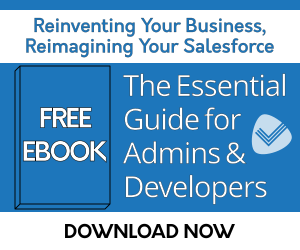 Making Salesforce Data Work for You
Elon Musk once said, "I think you should always bear in mind that entropy is not on your side."
As digital transformation moves ahead at lightning speed, some organizations are getting stuck because they are experiencing pain points and challenges in terms of accessing, managing, and leveraging data.
Data helps you piece together your story and gives you insights into the bigger picture. Data helps you see if you're on track to meet business goals, identify opportunities for growth, and set new goals.
It's kind of a yin and yang situation. "Digital transformation cannot exist without data. Yet many organizations inhibit access to data, preserving data silos and discouraging data sharing. This unnecessarily undermines efforts to maximize business and social value from data and analytics—at a time when COVID-19 is driving demand for data and analytics to unprecedented levels, said Sr. Director Analyst Lydia Clougherty Jones in the Gartner report, Challenges data and analytics leaders face in 2021.
How do you overcome data challenges to position your organization for growth? Solutions that address pain points and close Salesforce® gaps for end-users and Admins can make a huge difference. For example, Robin Hood, which is a poverty fighting organization in New York City, was experiencing inefficiencies with their data aggregation process that was being done manually.
Users were running reports, exporting data into spreadsheets, and creating pivot tables, which made working with new data time consuming and repetitive. They needed a solution that would streamline their data aggregation and reporting. During their research and discovery phase, Robin Hood also looked at the Salesforce NPSP Custom Rollup, but chose Rollup Helper from Passage Technology.
"Rollup Helper simplifies and streamlines our workflow and processes, allowing us to make better and more accurate decisions based on the data we have. More importantly, it opens up opportunities for us to gain insights from our data by manipulating and analyzing it in ways that were previously impossible," said Robin Hood's Associate Manager, Database Administrator, Hao Lyu.
The increase in data brought on by digital transformation can also add more complexity to decision making and prioritizing. Value or Matrix Scoring in Prioritization Helper helps groups score records inside of Salesforce Objects. If your priorities change, the priority scores can be updated in real time. Trailblazer Sydney Scott explains, "This tool has been great for helping our team members with their high case load—pretty simple to set up on the back end. Now my users can look at a report of all of their cases and see which ones management deems to be most urgent according to the data we chose."
Another barrier to sharing data can be when organizations use multiple tools for managing projects. To overcome this, a transportation agency in a large metro area uses Milestones PM+ to track and manage a wide range of internal and external projects efficiently and eliminate duplication of efforts.
"Some are multibillion dollar transit projects, and others are small short-lived programming efforts. We needed a way to see what each of us was working on, using minimal communication, and ensure that we weren't working in the same area," said the associate from the agency. When you streamline processes and close gaps, empowered end-users can make better decisions about their data while Admins can turn their focus to higher priorities. To see how Passage Technology's apps and development services can work for your challenges and use cases, check out our guide Making Salesforce Data Work for You.