Helping Admins & Developers Get More Out of Salesforce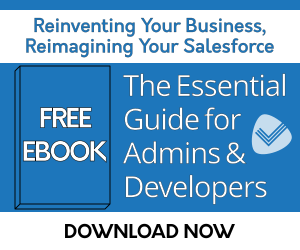 In certain respects, the greatest benefits of using the Salesforce® platform are often directly associated with its greatest challenges.
Setting Up Salesforce
Salesforce is more than a CRM company now—it has a multitude of cloud- and industry-focused solutions and a large marketplace of consulting and app vendors available to customize it via the Salesforce AppExchange. The platform requires a high degree of customization (and most likely packaged apps) to meet your needs; it's just not a set of licenses you are buying from Salesforce. So by design it can be incredibly helpful for many companies to establish a strategy for implementing Salesforce.
When you invest in Salesforce; you are investing in setting up your company in its one-of-a-kind and premier ecosystem. Companies can no longer just deploy it, turn it on, and go. You need to develop a roadmap of what you need out the gate for initial setup vs. what can wait for future years. The "big bang" approach may work for some companies with an infinite supply of time and capital, but the more "Agile way" is to prioritize your biggest pain points and develop a resource strategy for how to address those problems.
Your resource strategy should include identifying the Admin and Developer resources needed to not just deploy Salesforce but to maintain it. Then, Admins and/or Developers should look at the "building vs buying" capabilities needed for your initial implementation or optimization project.
Ultimately, you'll need to leverage the Salesforce Ecosystem to its fullest to reach the highest level of capability that Salesforce has to offer, and this will often require leveraging third-party solutions compatible with Salesforce or native to its platform. This approach serves as an accelerator for each project. Trying to do everything internally can often be a recipe for disaster—it can take a substantial amount of knowledge and experience to avoid the pitfalls of the multi-tenant nature of the Salesforce platform.
So clearly, to set up Salesforce for success, it falls to the companies' Admins and Developers to customize the platform and find the relevant add-on solutions or development services they need to fill the gaps or to move quickly and effectively.
Extending Salesforce Capabilities
Ongoing usage requires extending the capabilities of Salesforce and empowering the internal business users as well.
Salesforce is remarkably adept at providing a single source of truth that offers a 360-degree view of a business's customers—that's why it's the world's #1 CRM system. But its complexity, combined with limited Admin resources in many businesses, means that data integrity can be a challenge, susceptible to users creating and acting upon duplicative, bad, non-important, and stale data.
In addition, deriving meaningful reports and analytics from that data is not an easy task for non-experts, often requiring Admin help and further draining scarce bandwidth. Ultimately, these tasks may fall to the users themselves. As a result, users may not get the reports and analytics they need or, even worse, believe they have the right information when they don't.
You want to make sure that your users are not spending too much time entering information or reporting on data in Salesforce.
Getting a Helper
For Admins and Developers, they also have limited time. It's even more difficult when that time is consumed by various types of day-to-day challenges (check out our infographic for more on these kinds of challenges). After all, the Salesforce platform has so much potential to be used as a driver of strategic business transformation, and Admins are in a unique position to uncover insights and drive change—if their schedule allows for that creativity.
And let's be honest: Admins have career aspirations. Being known as a key driver of change can provide that pathway for upward mobility.
To lessen their workload and free up time for innovative priorities, Admins need to employ solutions that:
significantly reduce the need for customization, coding, and code maintenance
efficiently manage data integrity and relationships
allow them to confidently delegate certain activities to end-users
To aid you in your journey, we created The Essential Guide for Admins & Developers.
The Essential Guide for Admins & Developers
Passage Technology has developed a series of e-Books under the theme of Reinventing Your Business, Reimagining Your Salesforce. These Essential Guides for Business Transformation are free to download. (Check out our blog post, "Getting Essential Guidance to Innovate, Adapt, and Thrive," for additional info on the entire series.)
One of the e-Books, The Essential Guide for Admins & Developers, offers insights on how to extend the capabilities of Salesforce. With the right data at their fingertips, stakeholders across a business are in a better position to create experiences that delight their prospects and customers.

Getting more out of Salesforce can create the competitive advantage that takes a business to the next level. Get your free Guide today.