How-to Guide: Easily customize the Salesforce mobile app's default navigation menu (featuring Milestones PM+)
The latest version of Milestones PM+ has been optimized for the new Salesforce mobile app experience, allowing users to access project and task management on the go. To make it even easier for users to get their Milestones PM+ data, simply add a shortcut to the default navigation Mobile Only menu.
* Some features shown are available with Milestones PM+ Premium Edition and not included with the free version.
From setup, quick find "salesforce navigation" (Platform tools, Apps > Mobile Apps > Salesforce > Salesforce Navigation).
Find MPM+ Lightning in the Available list, add to the Selected list, and save.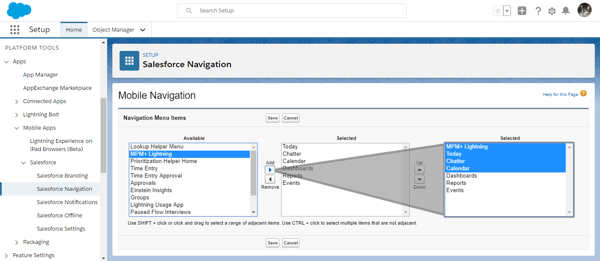 TIP: The top four selections will be the quick-access items on the app's bottom navigation (see below, with MPM+ Lightning on top of selected list above), so order accordingly.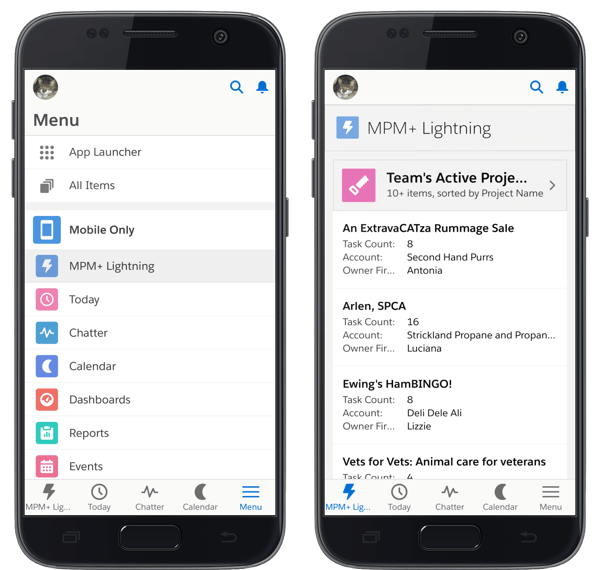 In the image above, notice how Today, Chatter, and Calendar have been configured in the quick-access-item at the bottom of the device's screen.
Download the Salesforce mobile app ( Android | iOS ), sign in, and check out the mobile-optimized Milestones PM+!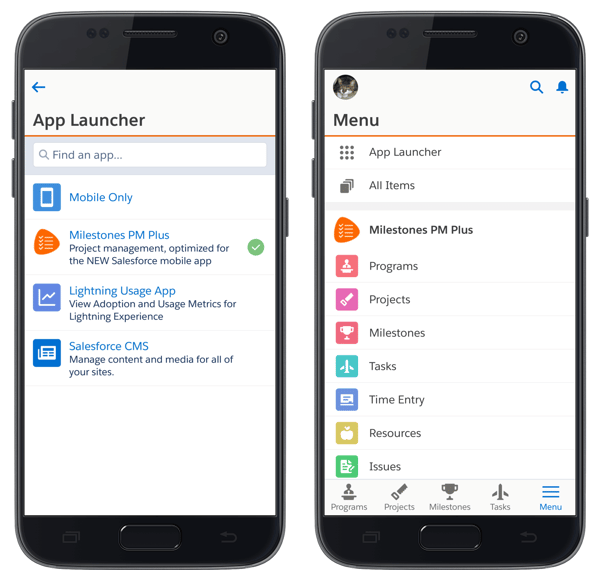 If Milestones PM+ doesn't appear in the App Launcher or Mobile Only menu for a user, verify
Milestones PM+ permission set assignment (whether the Full-Access default or your org's custom variation)
New Salesforce Mobile App system permission is enabled
New Salesforce Mobile App QuickStart setup path is completed
If you're still experiencing issues, see this Salesforce help document. If you're looking for more advanced configuration for project management in Salesforce, we offer affordable Salesforce development services for project management.