Resource Assignment
Resources are Contacts (non-Salesforce users) and Users to be used for Task assignments.
Improve work organization and progress status on projects involving efforts from both internal Users and third-parties.
Maintain security by allowing non-Salesforce users to participate when direct access to update project data in your org* isn't required.
Features
Hybrid approach. Resources can be any Contact or User record.
Visibility of all Tasks assigned to a Resource.

Resource Allocation
Resources can be attributed to predefined skills or any other distinctions.
Improve efficiency of assigning Tasks that are time-sensitive and/or ability-based.
Ideal if "Can the Resource…?" is more important than "Who's the Resource?"
Search Resource availability by name, time frame, and skill.
Identify workload imbalances and resolve with reassignments.
Improve work quality and completion time based on Resource availability.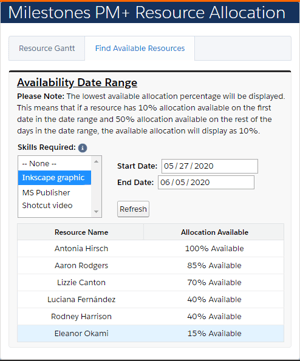 Features
Resource Gantt shows daily allocation of a Resource for a given time frame.

Resource View shows daily percentage total of all Tasks.
Task View shows daily percentage of each Task.

Find Available Resources

View availability of Resources for a given time frame.
Filter Resources by skill
Resource Alerts
Resources assigned to successor Tasks can be notified when predecessor Tasks are complete.
Prevent unnecessary Project delays.
Reduce time spent coordinating Tasks and notifying Resources.
Features
Automated email alerts.

View on Salesforce calendar, Salesforce homepage, in Microsoft Outlook, and Gmail.
Display future, current, and late Tasks on the homepage and calendars.

Use in conjunction with Salesforce-native reminder system.
Resource management for Salesforce projects and task assignments is available with Milestones PM+ Premium Edition. (*) If a Resource needs access to project data in your org, they require a Salesforce license. Ask about our discounted Milestones PM+ per-user licenses today.