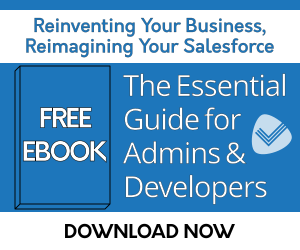 This issue features the latest company news along with Rollup Helper, Lookup Helper, and Milestones PM+ updates.
Building Trust by Managing Customer Data Responsibly
Managing customer data compliance is complex, and when your data is non-compliant, it can also be extremely expensive. Did you know that an organization can lose an average of $5.87 million in revenue as the result of a non-compliance event?
To help you stay compliant, Salesforce® provides an Individual object so you can keep track of an individual's data privacy preferences. The next step is to customize and use the Individual object, which will help you respect your customers' wishes on how their data is used, stored, or deleted. You can read more about this topic in our blog: Managing Customer Data Storage to Meet Compliance Requirements.
We Want to Hear From You
Your feedback and reviews are important to us as we continue to add more features, usability improvements, and functionality to our apps! Visit us on the AppExchange to leave a review for Rollup Helper, Milestones PM+, Lookup Helper, or Storage Helper.
---
Looking for ways to improve productivity and maximize efficiency?
We're sharing popular use cases to help you work smarter. Read more: Top Ways to Manage Salesforce Data and Add Value in 2023.
Have you been told something you want to achieve in Salesforce is impossible?
You're not alone. Check out the following stories to see how the impossible becomes possible. Read more: Achieving the Impossible in Salesforce: 3 Stories of Overcoming Obstacles.
---
App News & Updates
New! Milestones PM+ Send Email Lightning Web Component (LWC)
Now users can easily select and customize an email template to send to any Salesforce user from the Task/Milestone page using the Send Email LWC. This can also be used on the Time Entry grid to allow the submitter to send the submission email to multiple users or managers. Additionally, when users select the setting "Custom Time Entry Approve/Deny Emails" the modal will appear on the Time Entry Approval page. To see the full list of updates, check out Release Notes v14.8.
The following example shows how you can customize an email template using the Send Email LWC.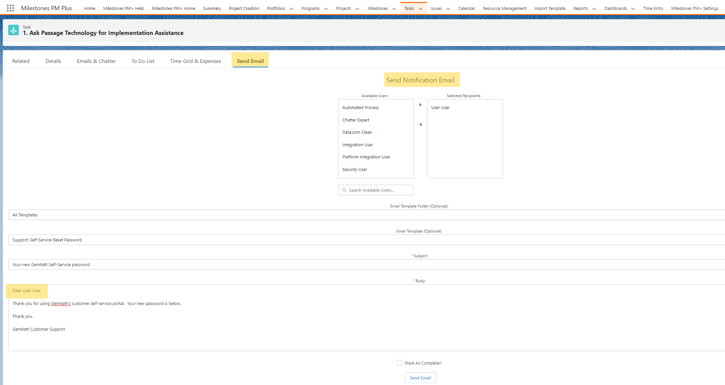 100% Salesforce-native and easily customizable, Milestones PM+ is a free AppExchange app for all Salesforce clouds (Professional and up) with complete org access to all customers. Instant 360-degree visibility to programs, projects, milestones, tasks, time, risks and issues, and resources provides better project management right in your CRM.
---
Introducing Rollup Helper's New Grandchild Rollups!
Rollup Helper is proud to introduce the latest member of the family—Grandchild Rollups. This latest update also gives you more flexibility, allowing you to Activate Selected Rollups and Change Rollup Job Users. All the updates below are included in Release Notes v18.6.
Grandchild Rollups – For Premium Edition Users

Now you can rollup values from two levels below the target object. This feature is for Rollup Helper premium edition users since it allows you to create Grandchild Rollups with one rollup setting. To get step-by-step instructions, see the use case Creating Grandchild Rollups.
Grandchild Rollups – For Free Edition Users
Using the free edition? Don't worry, you can still do Grandchild Rollups! It will just require a two-step process. You can find free edition instructions here.
Activate Selected Rollups
Guess what? Now you can easily select multiple rollups to toggle their active status. As shown on the image below, simply select rollups individually on the left-hand side of the All Rollups page. Then click Toggle Active at the top of the page to change the activation status for all selected rollups.

Change Rollup Job User
Now you can run, delete, or change the running user of all Rollup Helper jobs from one component. This is available by clicking the Configure Rollup Jobs button at the top of the All Rollups page or from the Health Check page.
The following example shows how you can Change the Running Job User. Every job that Rollup Helper can schedule will be listed, along with the user it was submitted by and the available action. You'll also see an info icon next to each job that explains what the job does when you hover over it.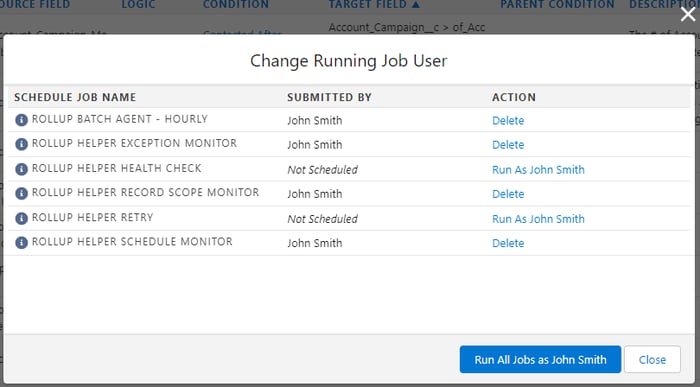 With Rollup Helper, you can super-charge your org with capabilities that normally require extensive coding. Rollup Helper overcomes common Salesforce rollup limitations like needing a Master-Detail relationship or the inability to include cross-object formula fields in rollup summary filters. Use Rollup Helper to build mission critical reports and trigger intelligent data-driven workflows.
---
Lookup Helper Gets Real—New Real-time Filtering Settings
Real-time Filtering
Before real-time filtering was introduced, any changes to fields referenced in Child/Parent Filters would not trigger settings to run in real-time. This means that if a Lookup Helper Setting had a child filter Name = 'John,' and an edit was made to the Name field to now be 'Jane,' then the child record's lookup field value wouldn't change even though it's no longer valid.
In the past, a manual or scheduled run of the setting would need to occur for the lookup field value to clear out. But now with Real-time Filtering, the lookup field clears out instantly, and a manual run is no longer needed.
This example shows how you can Define Additional Child Matching Criteria.

Real-Time per Setting
This feature allows Admins to decide which settings they'd like to be Manual Run Only at a more granular level. What is the impact of this change? Before this feature was introduced, real-time was enabled/disabled at the object level. So if you had 10 Lookup Helper Settings that were using Account as the Child Object, then all 10 would either run in real-time or not run in real-time. With the introduction of this feature, now you can disable real-time on 3, 4, and 5.
For example, what if you don't want to run all of the Lookup Helper Settings in your org in real-time that share the same Child Object? When you Disable Real-Time on the Lookup Helper Settings you don't want to run in real-time, the remaining Lookup Helper Settings that use the same Child Object will continue running in real-time. And the disabled Lookup Helper settings will be manual/scheduled run only.
The following example shows the Disable Real-Time feature.

Lookup Helper gives you better visibility and insights to your Salesforce data by automatically relating records. For standard and custom objects, it allows you to organize your data by geographic location, time-frame, industry, or any other data category.
---
Featured Customer Success Story

Tell Us Your Story
We want to hear from you!
See how our customers are using our apps to save time and money while empowering their users to do more with Salesforce. Visit our Customer Success page.
---
Considering Salesforce Analytics Tools like Einstein or Tableau?
Since 2008, our apps and development services have been trusted by Admins and developers for building solutions on the Salesforce platform. Whether you're planning a Salesforce data migration, enhancement, or back office app integration project, we'll deliver on your vision. It starts with a free 30-minute consultation with our development team to talk about your project vision.
---
Ask PT About Comparing Year-Over-Year Revenue to Date in Salesforce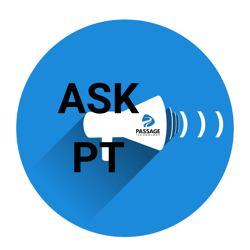 Dear PT,
---
Get Essential Guidance for Business Transformation – Free!
For businesses using Salesforce, the competitive landscape is always evolving. Learn How to Take Your Business to the Next Level with our downloadable guides. These exclusive, free guides offer invaluable insights and can help you on your journey to business transformation and continuous improvement.