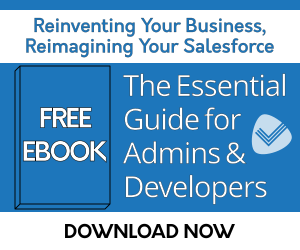 This issue features our Development Services and gives you the inside scoop on the latest Rollup Helper, Lookup Helper, and Milestones PM+ updates.
Successful Salesforce Optimization Starts With Discovery and Planning
The best chefs in the world know a great meal starts with mise en place. It's a French term for having all of your ingredients prepped and your equipment at hand. The same is true when undergoing a Salesforce® data migration, org migration, or app integration.
No matter how complex your Salesforce optimization project is, it's crucial to understand what you need for a successful initiative first. What kind of a business outcome are you looking to achieve? Is your goal to increase sales, reduce costs, improve profitability, or are your business outcomes more qualitative? To explore this topic more, read our blog post.
What's Your Project Vision?
Since 2008, our apps and development services have been trusted by Admins and developers for building solutions on the Salesforce platform. Whether you're planning a Salesforce data migration, enhancement, or back office app integration project, we'll deliver on your vision. It starts with a free 30-minute consultation with our development team to talk about your project vision.
---
What Is Technical Debt, and How Can You Avoid it in Salesforce?

Like regular debt, sometimes technical debt is necessary to accomplish what you need, like purchasing a new home or car. Most technical debt is accrued when companies are smaller, and they start seeing the effects as they start scaling. Here are some ways your company can create technical debt with tips on how to avoid it in Salesforce. Read the full article.
Simple Solutions for Complex Salesforce Data Quality Issues
Does your organization spend too much time fixing data problems? Consider these easy-to-implement tips—and then share your experiences to help others. Read the full article.
---
App News & Updates
Managing Rollups Just Got Easier!
The latest beta version of Rollup Helper includes a new Last Manual Run History feature and the ability to view exceptions that ran during the last Retry Rollup job, along with new exceptions generated after the start of the last retry job.
See the Last Manual Run History
This cool feature is accessible from a rollup's run page, and it provides information about a rollup's last manual run. Users can see the last time that specific rollup ran, who ran the rollup (which is helpful for debugging), how many records were run, and the name of the parent filter used, if applicable.
The image below shows the Last Manual Run History.
View Exceptions Processed During & After Your Last Retry Rollup
When Rollup Helper encounters any errors during processing, it automatically tries to log them into a custom exception Object. Our latest update allows users to view exceptions processed from the last run of their Retry Rollup job, and also any exceptions created after the start of the last retry job.
To get started, just click into the configure Retry Rollup link on the View Exceptions page. Next, you can either click on the "Exceptions Ran During Last Retry Job" tab, or select "New Exceptions Created After Start of Last Retry Job" to view the desired exceptions.
The image below shows the exceptions processed from the last run of a Retry Rollup job.
With Rollup Helper, you can super-charge your org with capabilities that normally require extensive coding. Rollup Helper overcomes common Salesforce rollup limitations like needing a Master-Detail relationship or the inability to include cross-object formula fields in rollup summary filters. Use Rollup Helper to build mission critical reports and trigger intelligent data-driven workflows.
---
Check it out! New Lightning Web Components for Milestones PM+
Now Resources can automatically log hours on a Task they're actively working on with the Task Timer Lightning Web Component (LWC). We also introduced a "Training" LWC with FAQs that's available for any main Object. This is a text module that can be added to help users and includes questions like "What is a Project?" for Project records and "What's a Milestone?" for Milestone records.
The new Key Dates LWC shows upcoming start dates and past due dates, as well as recently completed and current in-progress items. Add the Key Dates LWC from the Lightning Page Builder custom component section to your Home page or Program, Project, and Milestone layouts. Read the full release notes v13.3 to learn more.
The image below shows the new Training LWC, Task Timer LWC, and Key Dates LWC.
100% Salesforce-native and easily customizable, Milestones PM+ is a free AppExchange app for all Salesforce clouds (Professional and up) with complete org access to all customers. Instant 360-degree visibility to programs, projects, milestones, tasks, time, risks and issues, and resources provides better project management right in your CRM.
---
New! More Sorting Options for Lookup Helper
Now you can sort by column on the Lookup Helper Settings page! The latest release of Lookup Helper features a number of usability enhancements. For example, you can also sort by fields not included on the Lookup Helper Settings page when using a custom setting. You'll also see that the Lookup Helper Setting's name has been added to the browser tab when you edit a Lookup Helper Setting. Other improvements include:
You can suppress warning level Lookup Helper Errors at the setting level. We have multiple levels of severity for errors to give users more control over which errors they want/don't want logged. For example, you can suppress warning level errors for setting A, but warning level errors for setting B will still be logged.
The image below shows the new suppress warning level errors feature.
Applied a limit of 100,000 Lookup Helper Error records that can exist in an org. Once an org hits 100,000 records, Lookup Helper will not generate anymore. Lookup Helper will also send an email to the org contact letting them know that there are errors in their org that could lead to storage limits being exceeded. This has the added benefit of helping you save on Salesforce storage costs.

Check out Lookup Helper's release notes LH 9.34 to see the full list of usability improvements, and see LH 9.35 release notes for the latest bug fixes.
Lookup Helper gives you better visibility and insights to your Salesforce data by automatically relating records. For standard and custom objects, it allows you to organize your data by geographic location, time-frame, industry, or any other data category.
---
Featured Customer Story
---
Check Out the Latest Additions to Our Use Case Library!
Rollup Helper Use Cases
Total Closed Won Opportunity Sum
Number of Won Opportunities in a Campaign
Non-Profit Donations by Company
Number of Contacts under an Account
Largest Won Opportunity Amount
Lookup Helper Use Case
Adding a Recently Modified Lookup Helper Setting to the Top of Your List
Red Flags and Project Health in Salesforce
Equipment Inspection Checklist in Salesforce (preventative maintenance)
Have a use case you'd like to submit?
---
Ask PT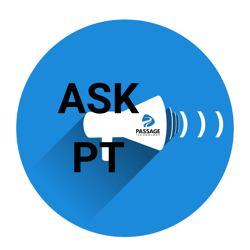 Dear PT,
---
Get Essential Guidance for Business Transformation – Free!
For businesses using Salesforce, the competitive landscape is always evolving. Learn How to Take Your Business to the Next Level with our downloadable guides. These exclusive, free guides offer invaluable insights and can help you on your journey to business transformation and continuous improvement.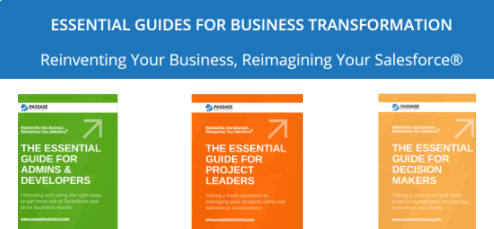 ---
How We're Paying it Forward
Passage Technology is proud to support Pledge 1%. One of the ways we are supporting Pledge 1% is through product donations to the nonprofit community. Pledge 1% makes it easy for companies to donate 1% of their staff time, product, profit, and/or equity to a charity that they choose. Learn how you can be a driver of this movement that helps companies stand at the forefront of economic and social change at Pledge 1% and our Pledge 1% Commitment.